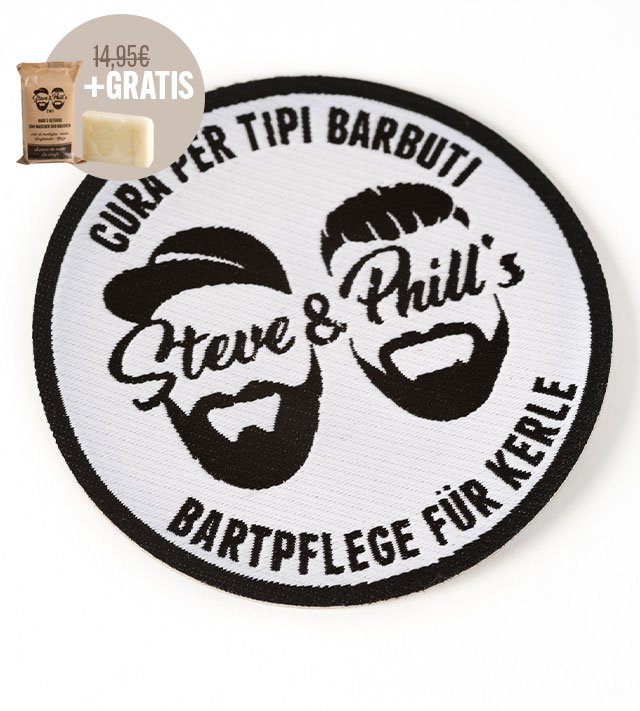 Our Steve & Phill's patch: a must for every bearded biker and patch lover. Beard on, brother!
About us
Hello everyone and welcome to S & P's, the beardiest start-up in South Tyrol!
We are Stefan & Philipp, and we love well-groomed beards! After much experimentation, we are now launching the first South Tyrolean brand of beard care products:
Oils & balm – of first-class quality.

It protects skin against water loss without being oily, is very skin-friendly, and is suitable for all skin types, especially for dry skin. The mountain pine grows in the mountain regions at the tree line and exudes a very characteristic, resinous fragrance.
It is also popularly known as "mountain blessing", and is one of the oldest medicinal plants. In combination with jojoba oil and other essential oils, it provides the perfect protection for your beard – as well as the skin underneath – and makes it sleek.

How do I groom my beard?
It is recommended to use a beard oil from as early as a three-day beard.
It protects the skin against water loss, and nourishes the hair as well as the skin underneath. Massage well into your beard and then spread the oil evenly into the beard and onto the skin using a beard brush. Your beard will become wonderfully soft and enveloped in fragrance, and your skin will be lubricated and moisturised. Starting from a length of 2 cm, a beard balm helps tame unruly beard hair. It gives beards a light hold, provides nourishment, and ensures that the hair sits better.
A beard balm is used to lend beard hair a certain suppleness and attractive shine, and also to add slight shape and some hold. The nourishing oils and essences are absorbed by the hair and the skin, while, at the same time, the lanolin (wool fat) and beeswax protect your skin and hair.

Known from ...